Stella Im Hultberg is a New York based, Korean born artist who creates amazing feminine artworks of raven haired skeletal women. Created using mixed media, particullarly oil and ink, often on tea stained paper. Emotive and striking, the images explore the fluidity of the media used and with subtle use of colour create a flowing and evocative and feminine images. In particular I love how she paints hair, exploring and accentuating the organic forms that the media offers, to create striking contrast and movement within her images.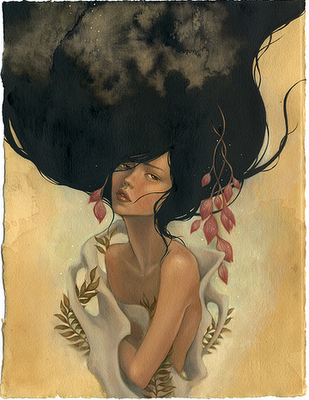 Nuri. Oil and ink on tea-stained paper
[more]
You can buy Stella's work from her website and she quite often has shows on in the US. If you like her art you might also want to look at the work of Amy Sol and Audrey Kawasaki with whom she has frequently collaborated and held several shows. Please be aware that some of her work may be considered NSFW.