If you are reading this then you are probably already aware of Ada Lovelace Day, but just in case; it is a day dedicated to blogging about women we admire in technology:
I'm choosing to write about Molly E. Holzschlag, and why I admire her. (Disclaimer: fangirl moments are therefore to be expected).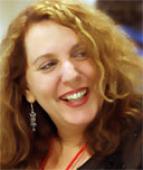 I've been working with the web for all of my professional career and it became very clear, very quickly that web standards were fundamental in making writing code easier, while more importantly being necessary to create an open and accessible web that was capable of what we hoped and imagined it could do. Although she doesn't know it Molly has been with me every step of my journey, writing about best practice and web standards, shaping the way I and many others work. I started way back with a HTML and CSS textbook and A List Apart and WaSP.
Molly was leader of WaSP (Web Standards Project) from early 2004 through to the end of 2006 and in that time drove real change by recognising that it is not enough to be evangelical about your subject, you need to make connections with and influence those that create the tools and the code inorder to affect the change you want. She helped build relations with Macromedia to influence the tool that web designers were using, and connections with Microsoft to help improve the browser that most people were using. Coming from a history of hacking Dreamweaver to try and force it to write valid XHTML while struggling with browser inconsistencies, it was good to know someone was talking to these corporate giants and refusing to be ignored.
[more]
In 2007 Molly worked with Microsoft to help try and improve web standards support in IE, which filled me with hope despite the mammoth task; anyone who has worked in a large organisation will know they are difficult beasts to change. But she was never afraid to ask the awkward questions even to the man at the top: http://molly.com/2006/12/14/who-questions-bill-gates-commitment-to-web-standards/
Last month she moved to Opera, which I can only imagine to be a complete change and I look forward to seeing what work comes out from that, when she can achieve so much in the face of such adversity I really have to wonder what might be done in a company that offers support for those ideals.
However the reason I admire Molly goes beyond her hard work with web standards, it is also about her ability to build connections; her openess and honesty that comes across online. She doesn't fall into the traps of just code samples (although these have their place), single-minded ranting or blindly insisting that everything worked well, but has an ability to see the bigger picture and to enlighten us in such a way that motivates us to join her in trying to make the web better. Thanks Molly.
But Molly isn't the only woman I admire working in technology although she may be among the most renowned, so I'd like to take this chance to give a bit of recognition to a few others as well: