This year I was really sad to see that the Women in Gaming conference has been cancelled due to low delegate numbers. I am an avid gamer and I think the games industry is sometimes behind other areas of technology, where it could really benefit from getting more women involved in games development. Often women go for the human focused areas of development, such as user experience or copyright, which are often sadly overlooked in games development. Instead there are a steady stream of churned out games like Imagine Babies and its ilk, lacking original gameplay and creativity. While I am glad that the games industry is finally realising gamers are girls and women too and I value a diverse set of games to choose from, I don't think it all needs to be Barbie dolls and toy soldiers in electronic form. Obviously this isn't just due to a lack of women, but by cultural stereotypes and an industry that has increasingly large budgets and monolithic development houses. Independant games development however still have a wealth of opportunity.
There are however some amazing women involved in games development, one of whom is Robin Hunicke who is a games designer and producer. While at EA she worked on My Sims and Boom Blocks and their sequels before recently moving to ThatGameCompany, who developed the truly awesome Flower. She combines this with academic study on Artificial Intelligence and Video Games, building bridges between the theory and the application. Her research on dynamic difficulty examines different techniques for representing and reasoning about uncertainty, to see how these approaches can be extended and combined to create flexible interactive experiences that adjust on the fly.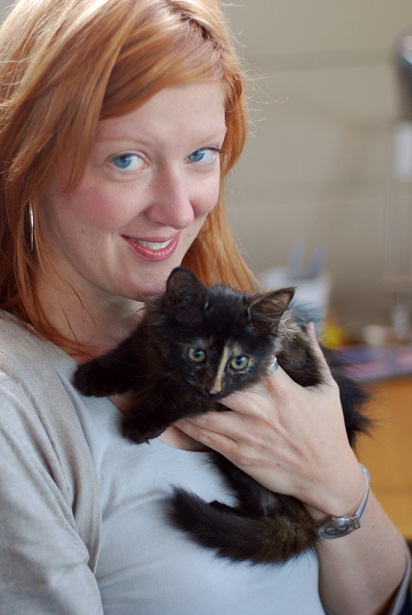 Robin Huckine and her cat Mika
I was lucky enough to see Robin talk at Gamecity last year and she spoke about how in order to be a better game designer you need to do much more than play games that you need to look outwards and experience as much of life a possible, reading and travelling. I think this is great advice no matter what your role, especially where you want to explore creativity. She also spoke passionately about using sketchbooks to capture ideas, to allow you to externalise ideas, and as creative people to capture ideas and work through some concepts, something which has definitely been true in my experience.
[more]
One of the things I'd like to thank Robin for is her focus on making games accessible to a wider audience in creative ways that doesn't just mean making games easy (and boring). Games like Boom Blocks use complicated physics engines and while it is really easy to get to grips with the gameplay, through the intuitive wii remote and game responsiveness. It doesn't isolate gamers by being easy or hard, but very cleverly has levels which can be played at a diverse set of skill levels, providing enough of a challenge to keep the most hardcore gamer engaged. It is highly sociable, being a game that begs to be played with friends and one I always get out to play with the non-gamers who come to visit. In addition it allows me to share levels I've created online with my friends. All of this adds up to a very accessible and sociable experience that is quite different from most games on the market. I think this a real reflection of the kind of gameplay that should be encouraged in game development when they are looking to widen their appeal.
She said in her letter to Kotaku about her move to ThatGameCompany:
"All my work is united by a single thread. I want to reach new people, with new experiences, via the medium of games and the language of game design."

Robin's second area of research also reinforces this, by examining how to evolve game narratives to the next level. Something that I think is essential to help broaden the appeal of gaming and for games to engage their users and to really find its feet as an art form in its own right. She says on her website:
"I'm also interested in how notions of fate, meaning and consequence can be communicated via video games. I believe that consequence is the key to expanding their narrative repertoire – for without consequence, actions have no weight and choices can do little more than satisfy our basest instincts and curiosities."

I think a great example of this is seeing how Robin moved the Sims franchise along with the MySims release. If you look at the original Sims games you spent your time trying to manage your time between needing a wee and going to work to allow you to buy more stuff for your house. MySims made it less about this sort of capitalist aspiration and more sociable, focusing on developing relationships and creating things to give away, to support a mayor who needs to attract more people to his town. I think one of the things we can learn from the success of Facebook is that if you want to engage a female audience in your games that to make it sociable is a really great way to do it.
Let's hope we see more people like Robin in the games industry, working as advocates for the indie games industry, as well as growing appreciation for the more user focused aspects such as writers and user experience designers. I highly recommend her UX2009 presentation which really shows how she has exposed the UX role within games development. Thanks Robin.