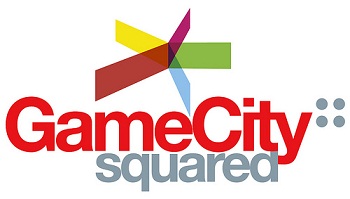 I've been attending GameCity since its creation, and before that the Broadway's Screenplay games festival that which ran from 2000. Each year it gets bigger and raises the bar. This year was no exception, with some amazing and large scale events.
This year saw the event take place mostly in the Council House and a large tent pitched outside in Market Square, so the event had its highest public presence to date, which can only be good for the festivals future.
Highlights
The best part of a games festival for me is in exploring new games and new ways of playing, which is evident in my selection of festival highlights.
Sandpit
This was my first experience of pervasive gaming, and I'm totally hooked. I only managed to register for two games due to demand, but this wasn't really an issue because there were lots of other people waiting too so we were able to start an impromptu game of Werewolf (http://www.eblong.com/zarf/werewolf.html) which needs 7+ players. One of the things I loved was that the people had an open attitude towards play.
I played two games, Hipsync and Moveyhouse, which were great fun and interesting experiences. There is something elevating about reclaiming a space with play and people not taking themselves too seriously. http://sandpit.hideandseekfest.co.uk/events/
Gambling Lambs
Gambling Lambs is a monthly gaming event in Nottingham, which held a special event as part of the festival. There was a great atmosphere and in the same way as Sandpit having a group of friendly strangers willing to play games together is a great experience. It takes place the first Thu of the month and I highly recommend it. http://www.gamblinglambs.com/
[more]
Indiecade
Each year Indiecade offers a selection of new games to play and explore. Each year usually holds a gem or two, last year I played the recently released http://machinarium.net/demo/ The indiecade was set up in the tent in the city centre, which means loads of lovely exposure for those games, but unfortunately there was no sound which is a big part of the experience.
This year a couple of games stood out; Papermint which is a colourful MMO had lovely art inspired by Parapa the Rapper. A surreal game based on Little Red Riding Hood called The Path that had a nice ethereal feeling about, with a dark twist. Moon Stories had some nice narrative based game play. Finally, Classic Night had a beautiful childish gothic art style, a bit like Invader Zim. To find out more any of the games from Indiecade check out their website: http://www.indiecade.com/index.php?/games
Night Blooms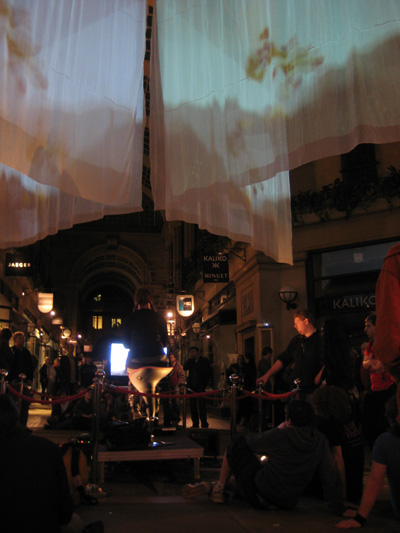 Robin Hunicke played through the whole of the game Flower, to an audience in the arcade behind the council house, while the screen was projected on muslin hung from the ceiling and rose petals occasionally fell from above.
The experience was as close as I've seen video gaming come an art installation, and it was an amazing experience. It started off with everyone stood around, but as the performance progressed the audience became increasingly horizontal. The game is very relaxing and hypnotic, while the audio is amazing and the architecture made it all the more dramatic. It was really interesting to experience a game in a totally different context.
World of Wordcraft
This was a panel of (ex)games reviewers trying to create the perfect games review with musical interludes by Rebecca Mayes. I have to agree with one panellist who kept saying reviews were dead, although I suspect we were coming from different positions. He was looking at aggregated scoring, while I've replaced games reviewers with my social network. Rebecca Mayes was fun and I really hope she does play some video games too, but for niche marketing she gets bonus points.
Brickfactor
Playing Lego Rock Band in the centre of Nottingham on a Saturday afternoon in front of a crowd and murdering Katrina and Waves will be a lasting memory. Hehe.
15 Pixels
A pleasant surprise of an event, a lunchtime curry session with Alaskan Military, the guys that made the viral for GameCity and the Lego animation guys Spite Your Face – you know the ones that did Camelot , yup them. Entertaining talks about how they do what they do and their inspiration. Great fun and really creative, art and geekery combined is a sure fire win for me.
Masaya Matsuura's Marching Band
Margaret Robertson held a brilliant interview with Masaya Matsuura, creator of Parrapa the Rapper, where we got to see some of his games that never got a UK release. This was followed by him conducting an audience rendition of Hey Jude on the Kazoo. Priceless.
The End
So when choosing how to spend Halloween, getting zombie make up complete with latex peeling skin courtesy of local make up students and trying to scare the hell out of people seemed like an excellent way to spend it. I was right and was delighted when my friend came as Zoe from L4D and kicked the hell out of the zombies.
GameCity
GamesCity festival happens every year and I'd highly recommend it to anyone with a playful soul.