Another amazing GameCity, we are in year six now and I've attended every year in some form or other. Each year the festival grows and develops in new and interesting ways and this year was no exception. There is no other event like this one, it offers a unique experience to explore and celebrate games, playing, art and their cultural significance. As such it draws a diverse audience from all over and it is these amazing people that really make GameCity the highlight of my year.
So here are some of my highlights and feelings about this year:
Journey and Robin Hunicke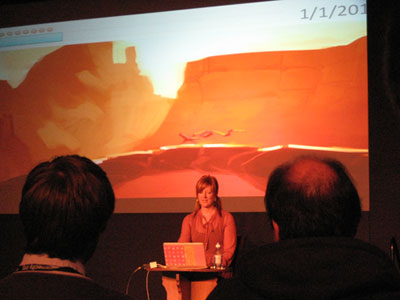 One of the most profound moments in GameCity history was when Robin played Flower in the arcade behind the Council House, then her talk on creative minds in the same year inspired this blog post. So I was elated to hear she was joining us again this year to play Journey, the latest game from That Game Company.
This year we had beanbags in preparation, with the addition of consoles set up around the tent to play along. Given the collaborative nature of Journey this seemed a great idea and was a natural progression from observer to participant.
Beforehand Robin spoke of the process of creating a game that allowed and encouraged co-operative play, and how to encourage the desired behaviour, instead of griefing and competitive play, so often found online. I always enjoy this insight into the design of the user experience in games.Read More »GameCity 6