If you are not familiar with the Bechdel Test, it is a simple test to apply to films; (i) there must be at least two women in it, (ii) who talk to each other, (iii) about something besides a man.
Many films still fail this test, though it was made popular back in 1985. The test only goes as far to look at the visibility of women in film, and to examine that they are defined by more than their relationship to a man. It doesn't examine how the women are portrayed and a film that passes the test may in no way be a feminist film. It's simplicity is both it's strength and it's weakness.
I'm interested in how this could be applied to the context of video games. But in order for it to work I think there needs to be some changes. So here is my version:
(i)There must be a female character with whom you can interact, (ii) who doesn't need rescuing, (iii) and isn't a prostitute.
Such a test comes with the assumption that there are gendered characters within the game. Some games, such as Flow or Space Invaders, do not have any characters of gender.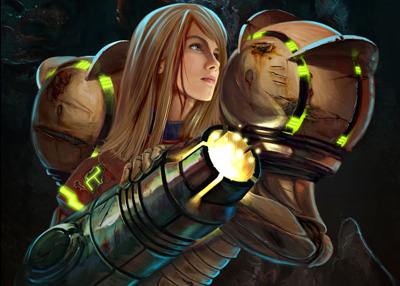 Samus Aran from Metroid by Ivan Flores
Conversation vs. Interaction
In film, the story is conveyed to a passive audience primarily through the dialogue of the cast. But in gaming, the game is defined by interactions that the player controls. Whether it is shooting, fighting, flying, walking or talking, different games draw on different actions, but it is the the player that performs these actions.
So in creating a test suitable for video games, I am less concerned about women talking to each other, but rather the actions performed to, with or by them. As it's through these actions that we experience the game.
In relation to a man
Bechdel also looks at women defined only by their relationship to a man, but this is harder to determine in a game. Games are a series of interactions, a collection of small one to one relationships with the player; X jumps over a log, X shoots Y, X lifts a box, X is killed by a ghost.
As a result if the player's avatar is male then it is possible that most of the game is defined by its relationship to a single man.
So perhaps an even simpler test would be I can choose to play as a woman. But this is too simple and doesn't reflect a strength of the Bechdel Test where it is actually surprising to realise what fails the test, thus encouraging you to examine more films you know.
With games we make the player an actor, literally, and it becomes about the actions as well as dialogue that define characters and gender. To examine if women are defined by their relationship to men we must look at how a male character and female characters interact and the actions associated with the gender as defined by game designers.
Helpless or horny
So when thinking about actions that define women in terms of men there are two that I see constantly in games. Firstly the helpless princesses who need rescuing, I'm looking at you Nintendo. Women who do little more than to offer the gamer the next quest, because they can't do something and they need you. "Can you please find my lost chickens?" while I stand here looking worried. Her role is to give you an objective and in turn make you the hero.
The second is as an object of desire, which can fit with Bechdel's idea of women being defined only by their relationship to a man. When sex is a commodity, a job, and a means by which we identify characters, it is a way to examine this. This test criteria isn't without flaws, but it is surprising how many games have prostitute or stripper NPCs.
What doesn't it test.
Its important to understand the limitations of a simple test.
It does not test the player. Some games don't have characters of gender, and any gender these games are given are defined by social expectations of the player, not the game designer.
It doesn't address games such as the Imagine series, where there is vast gender stereotyping going on. But having not played them it might be possible that the gender of the player while assumed is not defined and so a boy playing the game would turn such stereotypes on it's head. It then comes back to the social expectations of the player, not the game.
I'm deliberately not examining what the women are wearing, it's not about the clothes. You can write whole essays on this alone, but lets just say I don't care what people are or are not wearing and at worst it's a symptom. The male gaze is an issue in games as with other media, but this test it too simple to explore this concept in any depth, so certain volleyball games may still pass.
I'm not testing for misogyny. I haven't created a test that would fail if the only women in the game were psychopathic killers. In order to keep it simple I decided that at least if you are fighting evil women they have some power, which you are trying to overcome. If this is the only depiction of women it definitely smacks of misogyny, but this wasn't covered in the Bechdel test either. It also forgoes violence against women.
Tip of the iceberg
Women are not the only group poorly represented within games. Homosexuality, religion and race are all very poorly represented, and this is clearly due to a lack of diversity in the people making games. This test does nothing to address this other than look to raise awareness, it's up to us to make games that change this.